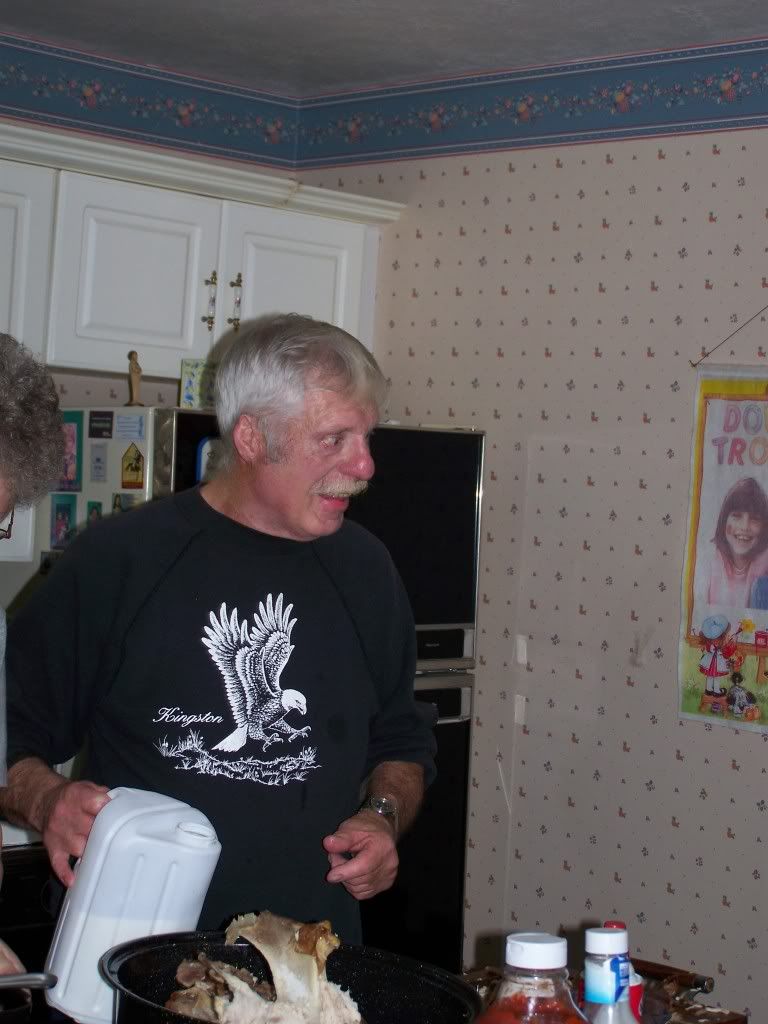 I first met my Father-in-law in 1990, I was dating my future husband and he brought me to meet his parents. I remember my thoughts that day...
I grew up in a family where we showed affection to each other, but not really to people we didn't know really well. If you came to our house, you would be greeted cordially, but not warmly. So I was unprepared for what happened when I met my husband's parents. I entered the door, was introduced, and both of his parents greeted me with a hug and a kiss on the cheek. My father-in-law also grabbed my arm and squeezed it in what I am sure he meant as a friendly gesture... he squeezed so tightly he left bruises where his fingers were. Both of my husband's parents treated me like a member of the family from the very start, they were great, but I found them a little overwhelming at first, their affectionate behavior would take some getting used to.
When my husband I were married, I was so glad to officially be a member of this loving family. I rarely ever really thought of my in-laws in the terms that many people think of in-laws, instead I felt like I had two sets of parents, and when my own mom passed away, I took great comfort in knowing that I still had my Mother-in-law, who, along with my Father-in-law, made me feel like I had been adopted by them.
My father-in-law was a no nonsense kind of guy, and while he showed physical affection readily, he didn't express his feelings in words. He wasn't the kind of guy to often say, "I love you", in fact I am not sure if I ever heard those words from him. But he showed his love every day. He always thought about how to help others. Whether that was by letting us rent a house for much less than he could have gotten from anyone else, building a fence in front of that house to give my first daughter a safe place to play, or giving my husband a riding lawn mower so that he could maintain the property we were blessed with by him and his brother. If I was to make a list of all the ways that man helped over the years, it would be incredibly long, I wonder if he knew just how much I appreciated him, how much I loved him.
He lived next door, and I remember how he would come up to our house, and rather than walking up the door and knocking, he would look into the windows to see if anyone was up and around. I would be walking through the house and catch sight of him out of the corner of my eye and be so startled. It used to drive me crazy. Now that he is gone I am saddened that it will never happen again.
He used to love to tease people, and always had a joking remark about things I would say. Sometimes I was irritated by that, but the other day as I was considering sharing with my mother-in-law my goals for the coming year, I forgot for just a minute that he was gone, and I imagined the things he might say. Then I remembered and knew I would give anything to hear him say them.
While he always had a joke to tell, he was never truly critical of me. Many times he stopped by when the house was a huge mess, but never did he say anything about it. He always seemed to overlook my faults, as if he couldn't see them. He would say that I was pretty, but not mention that I was obese. He would tell me I was doing a great job with my kids, but not mention that I couldn't seem to keep a clean house. He only mentioned the positive things to me, and never did anything that made me feel like less of a person.
Now he is gone, and I am wondering if he knew how much I loved him and appreciated all this about him. I know I told him that I loved him, but I don't think I ever sat down and had a heart to heart telling how much I appreciated him, telling him that I thought he was wonderful. I doubt he would have let me finish if I'd tried, because he really never would sit and listen to someone praise him, he would have shrugged it off and tried to make his good points seem insignificant.
Well, I know he is with the good Lord now, and I don't know if he can see us here on Earth or not, but I pray that somehow he knows how special he was to me, and how much I'll miss him.